Automated storage solutions
Automated storage solutions
Maximise productivity ratios, reducing the space and the number of movements with our automated storage system
Our logistics solutions are especially designed for picking logistics systems and automated storage solutions, designed to maximise productivity rates, whilst reducing the number of movements, the transportation work and space occupied in stores.
For refrigerated and frozen installations, we develop automated storage logistics systems and solutions that guarantee that temperatures will be controlled to levels as low as -40ºC, to ensure the product is preserved in the best condition, removing the need for employees to work in uncomfortable conditions, increase productivity in terms of the speed of the movements, all controlled by software, etc.
We have a wide range of options for automated storage systems, such as the Mini Load, Unit load pallet stacker crane, M-Shuttles, satellite system shuttles, curved systems, synchronised systems, etc.
If you need more information about automated storage or other products, do not hesitate to contact us.
What are Automatic Storage (AS) / Retrieval Systems (RS)?
SRM (Storage and Retrieve Machines) and SRS (Storage and Retrieve Shuttles) are computer-controlled equipment that form the AS/RS, Automatic Storage/Retrieval Systems.
The function of SRMs (stacker cranes) and SRS (shuttles) is to store and retrieve loads automatically within a warehouse. Whether in manufacturing, distribution, wholesale, retail or warehousing.
The function of warehousing is to physically hold loads in one location while they await a customer's demand. When the time comes, it is the same equipment that is responsible for extracting them and arranging them in the position where they will be operated with them.
This physical movement is always associated with a logical movement within warehouse management.
These machines can handle light loads or pallets, whether they are made of wood, plastic or metal of normally larger dimensions.
Benefits of the AS/RS system
The advantages of using AS/RS is to reduce the amount of space used. By being able to reach greater heights and needing very narrow aisles, it increases the efficiency of handling work. As no operators are required for handling, safety is increased and a more accurate inventory is obtained.
The AS/RS for light loads are normally inside the warehouse, and can be up to 20 metres high. Pallet racking can be inside the building or self-supporting, with racks that make up the building and to which the building envelope, façades and roofs are literally attached.
What are warehouse stacker cranes
SRM stacker cranes are machines that operate on two axes X and Y, and have the loads in the transversal direction Z by means of an extractor device.
The movements on the X and Y axes are executed simultaneously to optimise times, by means of motors that move the machine on a lower and upper rail on the X axis, and move a carriage inside the machine between the masts or along a mast on the Y axis.
Stacker cranes can be single mast or twin mast. They generally work with rails at the base and another at the top of the rack. In the case of DAIFUKU, our world leading partner, they are always bi-masts.
The most common system for pallets are telescopic forks, which can be single, double or even triple bottom.
As for the boxes, they can be forks, if the box allows it, or puller systems, which can be different, the most common being the Side Hook, with folding fingers that push the box, and others such as Side Clamp, Side belt or Hook type, each with their own particularities that make them more appropriate depending on the case.
What are Shuttle systems
Shuttle SRS systems are characterised by the fact that they work on one level. In the case of shuttles, there are different concepts, as can be seen.
For box SRSs, the most common is that they work on one level. They are vehicles that move in the aisles and have a Side Hook type extraction system.
When several vehicles are installed in the aisle, it is necessary to place lifts that arrange the boxes on each level or collect them from each level. In this way, flow rates are much higher than those of SRM stacker cranes.
Benefits of stacker cranes and shuttle systems
In short, the systems described allow the automation of the movement of goods within the warehouse and more efficiently fulfil the warehouse's mission:
Establish an intermediate buffer between the source of the goods: suppliers or production; and send them at the appropriate time and efficiently to their destination: internal or external customers.
And its associated advantages are:
Reducing transport costs, both inbound and outbound, by executing them in the right way at the right time.
Benefiting from cost savings by producing or purchasing larger volumes.
Reduced manpower in handling.
Increased process safety.
Improved customer service, whether external or internal.
Ensuring an association between the physical movement of materials and the logical movement in management systems.
Ensuring traceability in sensitive products such as food or medicines.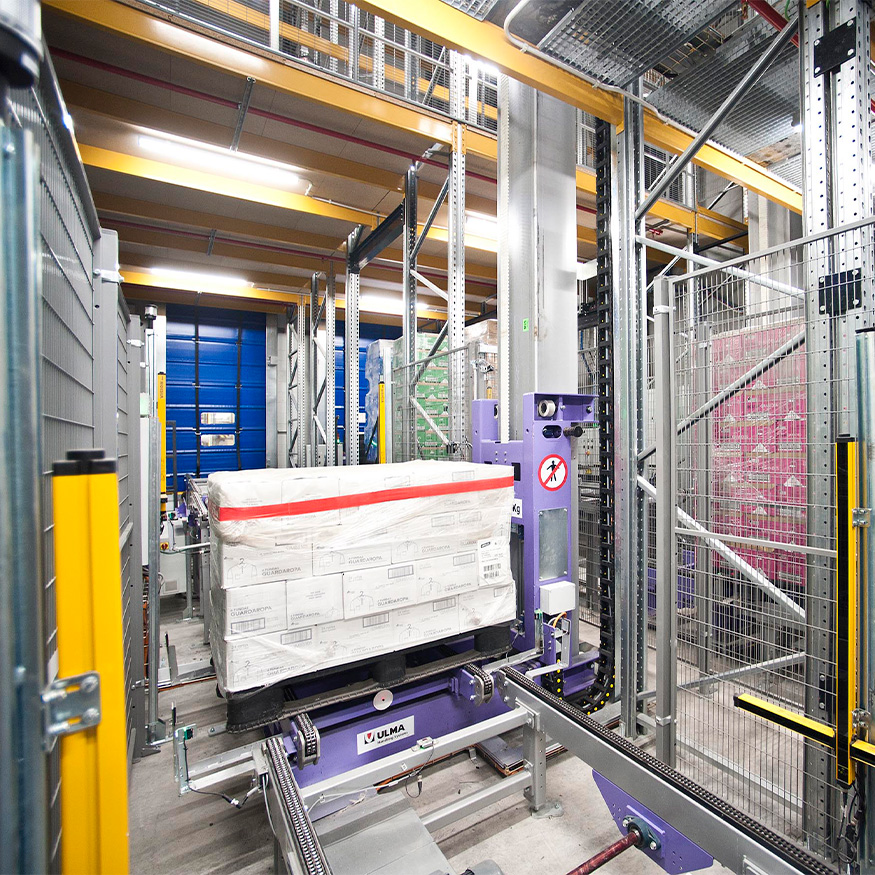 Talk to us
Do you want to improve your productivity and be more efficient in your logistics?
Request information